Bathroom vanities
Dory Otto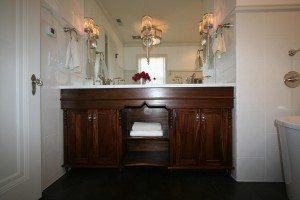 Bathrooms are an essential part of your home. Bathrooms have to serve some very basic functions, but that doesn't mean they have to be basic.
We can create bathrooms that not only function well, but are enjoyable. Maybe you want a glamorous powder bath with some stylish storage built-in. Maybe you want your master bath to feel like a high-end hotel, so your time in there is more spa-like.
The photos below are just a sampling of some of the bathroom vanities we've created. As you can see, you are not limited to one style. We can create spaces that are sleek or formal and anything in between.
Together we can take your routine and existing space into account as we design a bathroom vanity that maximizes the space and matches your style.